AIRSCREEN AEROPRO™ OUTDOOR MOVIE PACKAGES
The AIRSCREEN AEROPRO™ Outdoor Movie Package offers an easy to use, durable, stable, portable, outdoor movie solution featuring AIRSCREEN AEROPRO® inflatable outdoor movie screens and state of the art digital projection and sound. We offer two great options with our HighPRO and PLUS models.
AIRSCREEN AEROPRO™ Inflatable Outdoor Movie Screen is the original AIRSCREEN that started the outdoor cinema phenomenon. Like iPod™and Mac™, the AIRSCREEN AEROPRO™ is a design triumph. The minute your AEROPRO™ arrives, you'll know you have received a superior product.
AEROPRO™ is rated for 26 mph winds
50% stronger screen surfaces than other brands so there is little to no "pillowing" effect
Easiest to use
30% lighter than other inflatable screens
Welded frame construction lasts longer than other screen frames.
Professional front or rear screen surfaces available
Super quiet operation
Comes complete: ten black nylon tethers: heavy duty carry bag, deluxe repair kit, stakes & sledgehammer.
AEROPRO™ PRO HIGH DEFINITION CONSOLE & SOUND SYSTEM - simply the best outdoor movie audio & high definition video console on the market. Fast setup, easy to use, yet will satisfy any audio professional!
Heavy duty ATA rated road case - your investment is professionally racked and is safe for transport
Triple screen LCD monitor - preview your content before it hits the screen
BluRay Player and Progressive scan DVD players with HDMI high definition output - sharp and brilliant video images
High Definition Video Switcher - select either DVD Player or other video input with the push of a button
Pro quality rack mounted audio mixer dock for audio control with our iPod dock - offers true professional fidelity for volume control with additional inputs available for gaming or PC
Power conditioner and surge protector with two lamps - outdoor power is often unstable, with our power conditioner you have an added degree of safety
High quality corded microphone (no signal drops from wireless interference) for announcements.
All needed audio and video cables - everything is pre-wired, labeled and stored conveniently in the case.
PRO Speaker System - the leader in portable sound is JBL - our PRO systems are matched with:

JBL EON 515 Speakers - the flagship of the new series is the JBL EON15 G2, delivering 300 watts of power to a 15" neodymium Differential Drive® LF driver. The driver boasts a dual neodymium magnet and dual voice coil motor that efficiently delivers high output from a lightweight woofer. Meanwhile, the HF amplifier delivers 100 watts of power to a 1.75" titanium diaphragm compression driver with Ferro-fluid cooling
JBL JRX 18" Powered subwoofer - the ideal companion to the EON 515, the JRX adds 300 watts of bass to your system (included with 24' and 30' packages)
Speaker bags for the G2's
Speaker stands with bags are included
AEROPRO™ PLUS CONSOLE & SOUND SYSTEM - self contained in our heavy duty custom case, everything is ready to go for your outdoor movie events! Unlike a competitor, we do not package your electronics on a shelf system in a camera case (Pelican).
Custom case with removable top and front
DVD player with 7" monitor
Multi-channel audio mixer for volume control with additional inputs available for gaming or PC
Power conditioning and surge protector with lamp (not offered by our competitors)
High quality microphone for announcements.
All audio and video cables are pre-wired, labeled and stores conveniently in the case.
JBL EON 315 powered speakers - no speaker manufacturer represents quality like JBL. This speaker is internally biamp powered. The biamp design provides dedicated power amps for the low frequency 15 in. driver and the 15 in. compression driver. This cabinet features a high-output, neodymium 15 in. driver with a 1.75 in. voice coil. This contributes to its light weight and the portability that everyone loves about the EON line.
Speakers bags and speaker stands with bags are included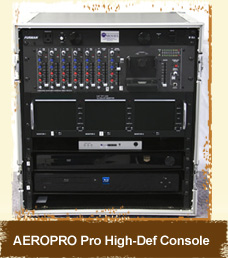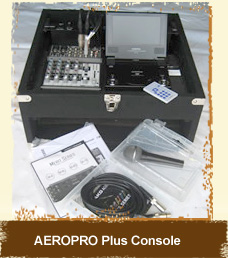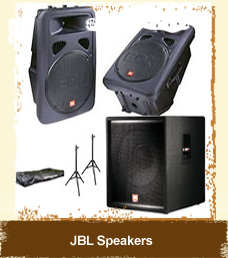 PROJECTOR - Each AIRSCREEN Outdoor Movie System is matched with a projector with the right features and brightness. And many of our projectors offer native widescreen images and high definition compatible. Your picture will be stunning on screen. You also receive a case for your projector.

WARRANTY - A warranty is as strong as the company offering it. AIRSCREEN has been the industry leader for 15 years and has sold hundreds of screens to more than 40 countries. Our "best in the industry" warranty includes:
3 year labor and material warranty on the AEROPRO screen system
3 year warranty on all Sanyo and Christie projectors
1 year warranty on all other electrical and electronic parts
PRICING
Widescreen (16:9) HI-DEF PRO and Plus System Pricing
16' x 9'............................................ $11,495 / $8,995
20' x 11'3" ...................................... $14,995 / $11,995
24' x 13'6" ...................................... $18,995 / $17,595
30' x 17' ......................................... $21,995 / $19,995
AEROPRO™ Packages usually ship within one week of order. Full screen packages available. Prices do not include shipping.